Stage Plan
Momo Said Stage Plan (PDF)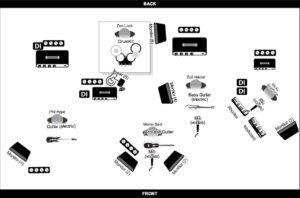 Extra Info
1 Standard 2×2 Drum Riser
1 Sennheiser MD421 for Bass (we got with us)
1 DI for Acoustic Guitar (we got with us)
We've got a 3×3 mt logo Backdrop to hang up on the back of the stage.
We also need for the show:
n.8 small bottle of still water at room temperature n.4 clean towel
n.1 Tall Stool
LIGHTS: White PAR on front and Color PAR on Backlight 6 beam led (optional) for backlight
We don't have a lighting design WE NEED A GOOD AND PROFESSIONAL LIGHTING ENGINEER
Total Crew personnel:
5 musician + 1 Tour manager & sound engineer
Also Required:
For hospitality, we need a Dressing room, with 1 Full Length Mirror, table and chairs.
A catering with assorted vegetarian sandwiches, assorted drinks includes water and 2 good local red/white wine bottles.
Dinner: 6 person. Before 2 hrs the show, please remind 2 person are vegetarians.
The artist (Momo Said) request to serve the dinner after the show, please keep it in mind. For any doubt, please refer to Tour Manager.
Contact:
Corrado Magalotti – Tour Manager & FOH sound engineer +39-3486544301
corradomagalotti@tamtamstudio.com
Monititotor(5) Monitor (5)
Micicicky Scarface Micky Scarface
Micic (vocalslsls) Mic (vocals)
Guititatar(elelelectrtricic) Guitar (electric)
Monititotor(3) Monitor (3)
Monititotor(1) Monitor (1)
Group 1 electric guitar, drum, bass
Group 2 Acoustic guitar, Lead Vocal, bass, Bass drum, snare
Group 3 Bkg vocal, keys, lead vocal, electric guitar, bass drum, snare
Group 4 Bkg vocal, Bass, lead vocal, electric guitar
Group 5 Bass drum, Snare, Bass, lead vocal, electric guitar, acoustic guitar
Group 6 Lead vocal, Acoustic Guitar, drum, el guitar, keys